Information
GET THE NATURAL LOOK WITH DUOFUSE COMPOSITE DECKING
Composite decking is a mixture of recycled wood and plastic, combining lasting attractiveness and utmost durability saving you time and money as our decking doesn't require painting and will not bloat or swell with changing weather. A stylish adornment in your garden: an attractive and natural-looking decking for your terrace or a surrounding area for your hot tub
Our decking is available in 4 timeless, attractive shades:
Duofuse decking and decking boards are available in 4 shades and comes in 4mtr and 6mtr lengths. Up to 6 to 8 weeks after being installed, slight variations in colour may occur, after which the colour will stabilise and stay the same for the rest of the product's life. Even after many years of exposure and use, your decking boards will still look as good as new.
UNLIKE WOOD OUR COMPOSITE DECKING:
Will not rot, swell, splinter or split:
If installed correctly you will enjoy your decking for years without any sorrow, you can walk and play barefoot on the decking in safety.
Slip resistant, brushed surface:
Thanks to the brushed surface the decking is far less slippery than wood decking.
Invisible fixing:
No screws or nails that distort the view or hurt you.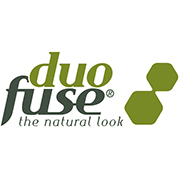 Need more information?
Click the link to view our brochure download.
Got a question?
Need a quotation?
Have a question about our Composite Decking Range? Need a quotation? Get in touch! Our friendly staff are here to help!